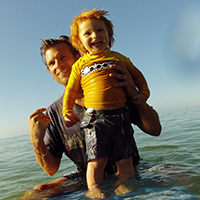 Wil Tidman Head of Production
GoPro
Wil Tidman is the Vice President of Creative and Strategy for GoPro Entertainment. For over 20 years, he has been a student, enthusiast, and professional in the areas of marketing, film, and photography. Throughout his career, Wil has created, written, directed, and produced video content, feature films, network-televised programs, and web series. He has been called on by top global brands to build strategic marketing campaigns and content platforms. Wil was recently named as one of Adweek's top 50 Executives as well as being honored as #1 on the list of the top 10 Branded Content Masters.
Wil lives in San Francisco with his wife, Jill Tidman, and his kiddos, Quincy Blu and Stella Rose.
"I believe there is nothing more powerful than speaking your truth. Youth Speaks is the epitome of empowering our youth to have a voice and be heard. I am honored to be given the opportunity to support Youth Speaks and their mission and vision for creating more original content and short films that tell the narratives of our youth, amplifying their voices."