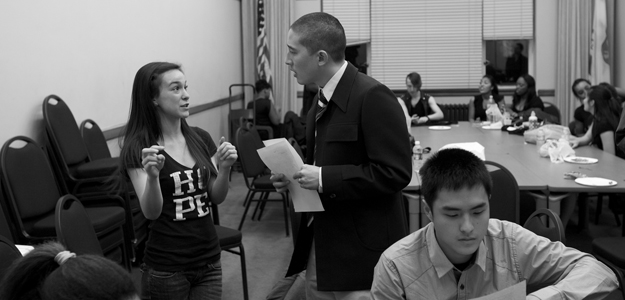 Poet Mentors play a vital role in the organization because they serve as a first line of contact for the youth we serve every year.
Youth Speaks hires accomplished spoken word artists to train and work as mentors and workshop facilitators in our residency, school visit and after school programs. Our goal is to jointly inspire voice, artistic development and leadership by fostering face-to-face relationships between emerging artists and young people.
AUDITION
Auditions are held twice a year. For questions or audition dates, please contact Michelle Lee at mlee@youthspeaks.org, (415) 255-9035×15.
FULL JOB DESCRIPTION
Poet Mentors work in the School Residency program and/or After School Workshops to facilitate spoken word workshops, and provide mentorship in Youth Speaks High School Clubs for youth ages 13-19.
Principle Duties and Responsibilities
Leading an individual Residency and/or After School Workshop, which will include:
Performance of original work at school visits
Lesson planning and curriculum development
Workshop facilitation
Attending all scheduled workshop dates
Keeping record and reporting attendance and progress of workshop sessions
Mentorship and support of Youth Speaks school club at your site (if on school campus)
Regular collaboration and communication with site leaders and Program Manager
Qualifications
The ideal candidate for this position will possess the following qualifications:
Spoken word artist 19-28
Must have previous performance experience
Must have experience with youth mentorship
Must be able to self-supervise, and report back to Program Manager regularly
Must be punctual and reliable
Must have strong interpersonal, written and oral communications skills
Must have strong leadership skills
Must be flexible and adaptable
Experience teaching/facilitating workshops preferred
Bilingual in Spanish, or Cantonese a plus (not required)
WAGES
Contracted positions compensate at $25 per/hour. Paid training and prep time are included.
APPLY
Please send us the following:
A cover letter that outlines why you are interested in working for Youth Speaks and your experience with youth development and mentorship, along with
Your resume, a CV, a writing sample, and list of references can be sent to:
Email: poetmentor@youthspeaks.org :: Fax: (415) 255-9065
Snail Mail: Poet Mentor, Youth Speaks, 1663 Mission St Suite 604 San Francisco, CA 94103.
All applications will be acknowledged.