What is the Unified District Poetry Slam (UDPS)?
Building off of the success of Youth Speaks in-school and after-school workshops, assemblies, open mics and the Teen Poetry Slam, the Unified District Poetry Slam is an exciting opportunity for your school's students to perform, dialogue, and speak their minds with high school youth throughout the district and the entire Bay Area. There is space for up to 25 teams representing San Francisco, Oakland, and the Greater Bay in this year's District Slam.
Who is eligible to participate in UDPS?
UDPS is open to all Bay Area High Schools. This is a team slam. That means each participating high school is required to have a team of 4-6 poets to represent them, rather than 1 individual poet. Each school can only have 1 team. Each team must also have one designated coach that can be the adult coach. Eligibility is contingent on your attendance at the UDPS orientation.
Team Registration UDPS 2016 Slam Guide
How To Organize An In-School Slam
Having a difficult time creating a team to compete for Unified District Poetry Slam? Want to promote Poetry Slam Culture at your school? Are you an Advisor and/or Coach wanting to make an In-school Slam happen before participating in UDPS?
A good strategy to organize a Poetry Slam at your school is to identify a student or a group of students (to create or lean on existing SLAM Club) that would like to help make this happen. Empower this group to take the lead in coordinating, marketing, and producing the performance. The secret to a successful slam is good communication and shared decision-making between Coach(es), Advisors, and Youth Poets. In time, we hope your school can join the Unified District Poetry Slam community of competing teams.
Congratulations to the 2016 UDPS Champions!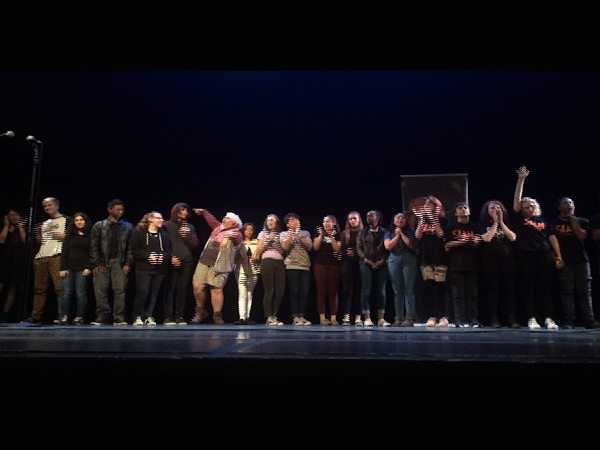 We are excited to announce Los Altos High School as the 2016 UDPS Grand Slam Champion!
Student Poets:
Derek Mark
Margo Lusinchi
Jaclyn Saik
Ginger Schmidt
Emily Goto
Coach/Teacher:
Jonathan Kwan
Carrie Abel