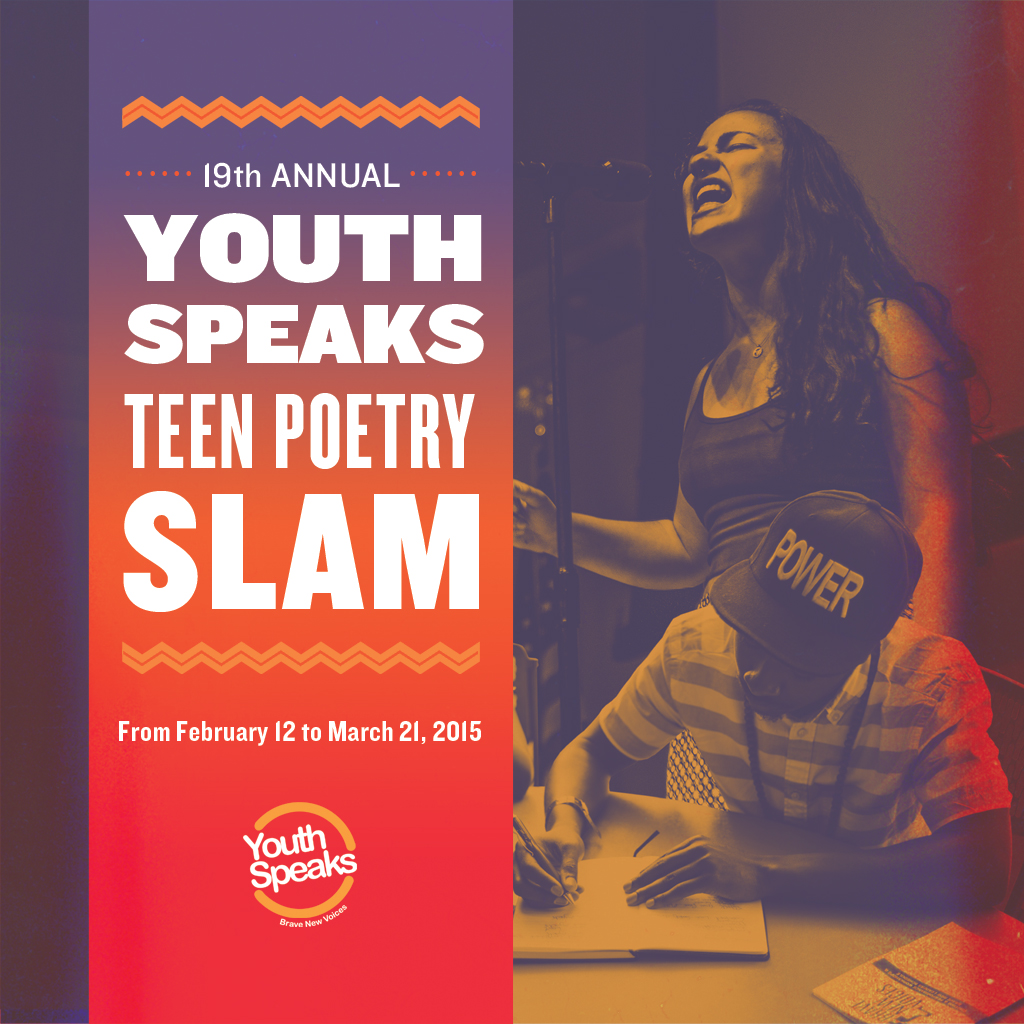 19th Annual Youth Speaks
Teen Poetry Slam
Celebrate the voices of 21st century America! Youth Speaks hosted the first Youth Speaks Teen Poetry Slam in 1997, the first poetry slam for teenagers in the country. The annual slam (an Olympic-style poetry competition) features hundreds of young writers, emcees, and performers from throughout the Bay Area and Northern California, and attracts almost 10,000 audience members during its month-long run.
The Youth Speaks Teen Poetry Slam is open to any youth 13-19 years old in the greater Bay Area. Here is the schedule for the 2015 slam season — join hundreds of young artists and leaders as they take the stage, speak truth to power, and perform for a chance to represent at the Grand Slam Finals.
Poet Registration Be a Judge Buy Finals Tickets
*No purchase is necessary for prelims and semis.
PRELIMINARY BOUTS
SoleSpace • 1714 Telegraph Ave • Oakland
Thursday, 02/12 & Friday, 02/20 | 7-9PM
*Co-Presented with Intersection for the Arts
925 Mission St #109 • San Francisco
Friday, 02/13 & Thursday, 02/19 | 7-9PM
Pegasus Books • 2349 Shattuck Ave • Berkeley
Saturday, 02/14 | 1-3PM
Bindlestiff Studio • 185 Sixth St • San Francisco
Saturday, 02/21 | 1-3PM
SEMI-FINAL BOUTS
Oakland Museum of California
1000 Oak St • Oakland
James Moore Theater | Friday, 02/27 | 7-9PM
The Lecture Hall | Friday, 03/06 | 7-9PM
SF Main Public Library, Koret Auditorium
100 Larkin St • San Francisco
Saturdays, 02/28 & 03/07 | 7-9PM
GRAND SLAM FINALS
The Nourse • 275 Hayes St • San Francisco
Saturday, 03/21 | 7-10PM