FREE Writing and Performance Workshops
We make life new by re-telling it.
Life. Stories. Life stories. Life is story.
Every year, Youth Speaks presents over 500 hours of free, after-school workshops to hundreds of teenagers in safe spaces across the Bay Area. A place for artistic and critical growth, the after-school workshops focus on different aspects of writing, from fiction, playwriting, and poetry, to performance, desktop publishing, and poetry slam. Workshops are taught by leading poets, writers, spoken word artists, and cultural activists, and typically run in 5 to 10-week blocks. Each workshop is open to any youth 13 – 19 years old.
NO REGISTRATION NECESSARY

---
Berkeley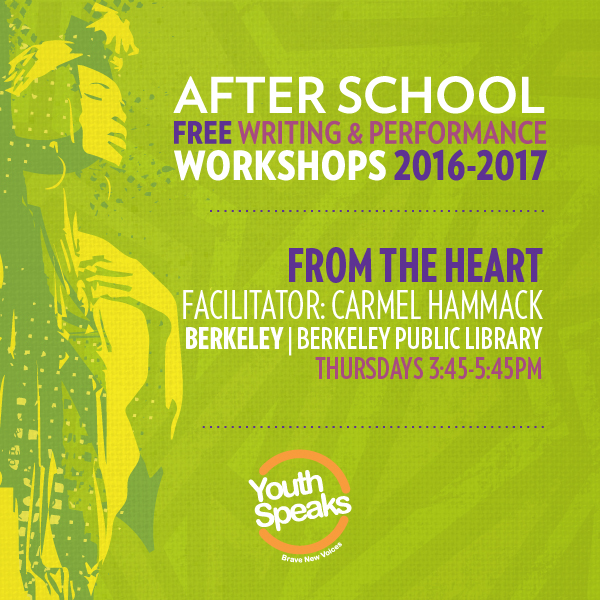 From the Heart
Facilitator: Carmel Hammack
Location: Berkeley Public Library, Central Branch – 2090 Kittredge St.
Day: Thursday, Start Date: 9/8 & End Date: 5/11
Time: 3:45-5:45pm
Description: A safe space for you to tell the stories that sit heavy on your chest and rattle your heart like the inside of a stolen spray can. Beginner and advanced writers, poets and performers welcome.
---
San Francisco

TURN UP! (The Volume)
Facilitator: M.C. K~Swift
Location: San Francisco Public Library – The Mix @ Main Branch – 100 Larkin Street, SF
Day: Wednesday, Start Date: 9/7 & End Date: 5/10
Time: 4:30-6:30pm
Description: This Youth Speaks workshop series for Bay Area youth will launch at SFPL's brand new teen center, The Mix. Participants will explore their own unique histories and creativity through dynamic, Hip Hop centered writing and performance. This is a safe space for young people to freely express themselves, while figuring out how to be change makers in their communities.
Generously funded by the San Francisco Department of Children, Youth and their Families, Grants for the Arts/San Francisco Hotel Tax Fund, the San Francisco Foundation, the Kimball Foundation, the National Association of Latino Arts and Culture, the W. Clement and Jessie V. Stone Foundation, The William and Flora Hewlett Foundation, The Walter and Elise Haas Fund, The Lia Fund, the Clorox Company Foundation, the Stanley S. Langendorf Foundation, the S.D. Bechtel Jr. Foundation, and individuals who believe in the power of the word when it is in the hands of young people.