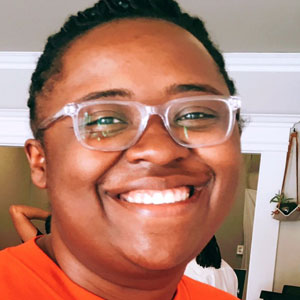 Ya'Shalan "Yaya" Nelson
Digital Storytelling Fellow
ynelson@youthspeaks.org
510.593.5309
Ya'Shalan "Yaya" Nelson
Ya'Shalan 'Yaya' Nelson is a storytelling artist from the East Bay Area.
Allowing her to tap into multimedia development at a young age, she entered Community MultiMedia Academy (of the Brave New Voices network) a hi-tech integrated, project-based learning academy. Within the now blossomed program, she explored a wide-range of filmmaking tools, production software, and refining workshops.
Falling in tune with the use of cameras, colors, and cinematic storytelling, it didn't take long to discover lifetime lessons along the way: how to fail, remain artfully curious, and not be afraid to go it alone.
She's an alum of Sacramento State's Film Program, where she produced prized films, Bullethead, The College Condition, and Sundown Town.
Working with Youth Speaks, she assists with internal storytelling for press and narrative video campaigns.
Let her know what she's been missing: Twitter @_yashalan, IG: @yashalan