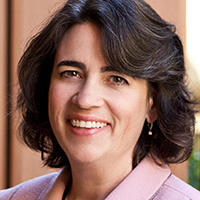 Anne Marie Burgoyne Managing Director
Social Innovation Initiative
Anne Marie Burgoyne is a Managing Director at the Emerson Collective where she funds and supports non-profit and for-profit social entrepreneurs and innovators. Her work spans across domestic and international geographies with a focus on strong leaders and strong models that have the capacity to scale. Before joining EC, Anne Marie was the Managing Director of the Draper Richards Kaplan Foundation where she made early-stage grants to high-growth, high-impact non-profits including Education Superhighway, Grassroot Soccer, The Mission Continues, One Acre Fund, VisionSpring and Welcoming America. Anne Marie is on the advisory boards of IDEO.org and REDF. Earlier in her career, Anne Marie was the executive director of United Cerebral Palsy of the Golden Gate and a REDF Farber Fellow at Community Gatepath. Before entering the non-profit arena, Anne Marie was on the executive team of a technology services company and an investment banker. Anne Marie received her MBA and a public management program certificate from Stanford University's Graduate School of Business. She also holds a BA in English and a BS in economics from the University of Pennsylvania and its Wharton School, respectively.