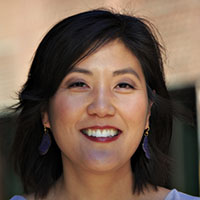 Michele Lee Director, Product Management,
Genomic Health Inc. (Molecular Diagnostics)
Michele has worked primarily in the healthcare field across biotech and diagnostics companies. She is currently at Genomic Health as a director in product lifecycle management, leading the roadmap development for the urology franchise, specifically tests for prostate, bladder and renal cancers. Previously she was at Genentech/Roche where she was the US Commercial Leader for new therapeutics in global development for lymphoma and leukemia. During her time there, she was also a product manager for a biologic to treat severe asthma and a market planner during its launch. Across these roles Michele has honed skills in strategic planning, launch preparations, and developing and executing tactics related to thought leader engagement, health economics, medical education, lifecycle management, market research, forecasting and performance tracking.
Earlier in her career, she worked for several years as a strategy consultant at Arthur D. Little in the chemicals and life sciences arena. She graduated with a Master of Business Administration from Kellogg at Northwestern University and a Bachelor of Science in Chemistry from the Massachusetts Institute of Technology.
Outside of work, Michele volunteers as an advisor for local nonprofits in the area of education and youth development. Prior to Youth Speaks, she served on the Board for The Future Leaders Institute (FLI), a program for high school youth on civic leadership and social entrepreneurship. She lives in San Francisco with her husband and daughter, and loves to take advantage of the great food and wine in the city. During her time off, she enjoys traveling internationally and is always looking for a good recommendation for a new place to explore.