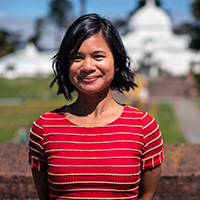 Beverly Mislang
Associate Director of Resource Development
bmislang@youthspeaks.org
415.255.9035
Beverly Mislang
Beverly Estrellas Mislang is the Associate Director of Development at Youth Speaks. With a decade of fundraising experience, Beverly specializes in finding sustainable and community-oriented streams of support for Youth Speaks.
Prior to joining Youth Speaks in May 2016, Beverly was the Director of Individual Giving at Performing Arts Workshop. She is an AmeriCorps alumna and served as the AmeriCorps VISTA Fundraising Associate at Streetside Stories from 2009 to 2010.
Beverly is on the board of directors at the Association of Fundraising Professionals-Golden Gate Chapter where she also serves as the Vice President of Equity, Diversity, and Inclusion. Beverly also sits on the board of Oakland-based Transit Books, a nonprofit publisher of international and American literature.
Beverly is a Bay Area native with family roots in the Philippines. She graduated from UCLA where she double majored in Political Science and History, with a focus on International Relations and Middle East history and foreign policy.