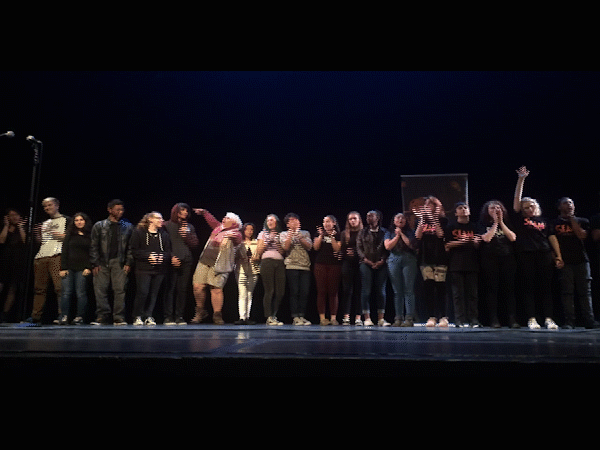 2018 UDPS Announcement
This year, after careful deliberation, we have decided to suspend the Unified District Poetry Slam, which brings young people together across the Bay to represent their schools and cities. As we continue to evaluate our programs to maximize impact and ensure future success, we hope to bring it back in 2019.
If you have any questions or concerns, please contact us at udps@youthspeaks.org.
Congratulations to the 2017 UDPS Champions!
We are excited to announce Oakland School for the Arts as the Grand Slam Champions of the 2017 Unified District Poetry Slam!
Student Poets:
Rose Gelfand
Miles De Rosa
Pablo Gomez
Elena Ruiz
Justin Walton
Coach/Teacher:
Audacious Wilson
What is the Unified District Poetry Slam?
As part of our dynamic Arts-in-Education programs, the Unified District Poetry Slam is an exciting opportunity for Bay Area students from 25 different high schools to perform, dialogue, and speak their minds through slam poetry. Bring a team to compete or attend and watch young people from around the Bay slam.
Who is eligible to participate in the Unified District Poetry Slam?
The District Slam is open to all Bay Area High Schools. This is a team slam. That means each participating high school is required to have a team of 4-6 poets to represent them. Each school can only have 1 team. Each team must also have one designated coach that can be the adult coach.
How To Organize An In-School Slam
Having a difficult time creating a team to compete for Unified District Poetry Slam? Want to promote Poetry Slam Culture at your school? Are you an Advisor and/or Coach wanting to make an In-school Slam happen before participating in UDPS?
A good strategy to organize a Poetry Slam at your school is to identify a student or a group of students (to create or lean on existing SLAM Club) that would like to help make this happen. Empower this group to take the lead in coordinating, marketing, and producing the performance. The secret to a successful slam is good communication and shared decision-making between Coach(es), Advisors, and Youth Poets. In time, we hope your school can join the Unified District Poetry Slam community of competing teams.
What if we are not ready to compete this year?
If you don't feel ready to compete, come as the audience and participate in cheering on your peers as they bravely share their stories and poetry. There are a limited number of transportation subsidies available on a first come first serve basis, if you are interested in bringing a group of young people to attend as the audience. Please RSVP by completing the Field Trip Request form.