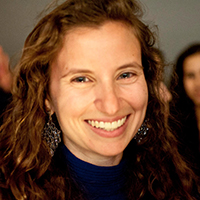 Natasha Huey
BNV Festival Director & Senior Associate
nhuey@youthspeaks.org
415.255.9035 ext. 24
Natasha Huey
Natasha Huey is a poet, teaching artist, and project manager. Natasha Huey is the Brave New Voices Manager for Youth Speaks and previously managed The Bigger Picture Campaign and the Raise Up Project. Natasha was a youth poet on the 2010 Brave New Voices team representing the Bay Area, Youth Poet Mentor, and member of Future Corps.
Natasha has performed on stages across the nation and beyond including the Oracle Arena in Oakland, the Warfield Theater in San Francisco, the Saban Theatre in Los Angeles, and Atlantis, the Palm in Dubai. Natasha has been on five nationally competing spoken word poetry teams including the Bay Area team that placed second in the nation in 2010 at Brave New Voices and the CalSLAM team that placed third in the nation in 2012 at the College Union Poetry Slam Invitational (CUPSI). At CUPSI 2013, she was awarded "Best Poet" and her team was awarded "Best Writing as a Team." Natasha is a graduate from UC Berkeley with a degree in Language, Power, and Identity and a Creative Writing minor. At Cal, she had the honor of Co-Directing UC Berkeley's spoken word organization, CalSLAM, for three years. She was also a Student Teacher Poet for Poetry for the People and the co-founder and co-facilitator of UC Berkeley's only student-led class on slam poetry.
In addition to being the Brave New Voices Manager for Youth Speaks, Natasha is a teaching artist for Performing Arts Workshop, co-founder of The Root Slam, and the co-founder of the Write Home Project.