MC Olympics
MC OLYMPICS CYPHER
The 2017 MC Olympics officially kicks off with a cypher on Saturday, April 29th. All are welcome in the circle but this particular space exists for 13-19 year old Bay Area emcees.
MC OLYMPICS COMPETITION
MC Olympics is an olympic-style competition featuring the best young emcees in the Bay Area. Through a series of rounds, we get familiar with each MC's skill level (on the mic, moving the crowd, freestyling and flow). Each year we search for an MC Olympics Champion and ask: are YOU the one?
The 2017 MC Olympics competition will take place in June. Stay tuned for confirmed venues. In the meantime, lock in these dates:
QUALIFIERS
Thursday, June 1
5:30pm
The Mix @ SFPL
100 Larkin St, SF
Friday, June 2
6:00pm
Oaklandish
1444 Broadway, Oakland
FINALS
Saturday, June 3
3:00pm
The New Parish
1743 San Pablo Ave, Oakland
---
National MC Olympics
The 2017 MC Olympics Champion will move on to compete at the National MC Olympics at the 20th Annual Brave New Voices Festival July 19-22, 2017 in the Bay Area, CA.
---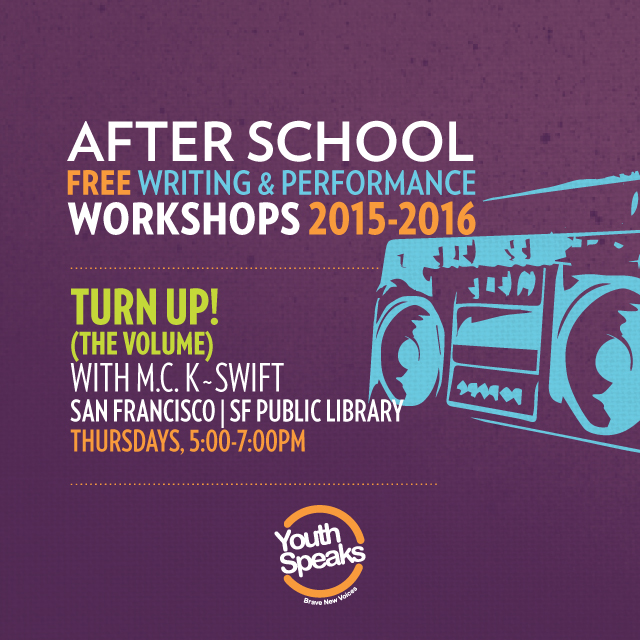 Hip Hop Writing & Performance Workshop
TURN UP! (The Volume)
Facilitator: M.C. K~Swift
Location: San Francisco Public Library – The Mix @ Main Branch – 100 Larkin Street, SF
Day: Wednesdays, through May 10th, 2017
Time: 5:00-7:00pm
Description: Time: 5:00-7:00pm
Description: This Youth Speaks workshop series for Bay Area youth will launch at San Francisco Public Library's brand new teen center, The Mix. Participants explore their own unique histories and creativity through dynamic, Hip Hop centered writing and performance. This is a safe space for young people to freely express themselves, while figuring out how to be change makers in their communities. Open to any youth 13 – 19 years old. Drop-ins welcome.
---
Digital MC Workshop
Need inspiration? Take a digital workshop with Youth Speaks' MC K-Swift designed exclusively for aspiring emcees.
Practice at our Under-21 Open Mics
Get your practice in front of a live audience. Join our Under-21 Open Mics.