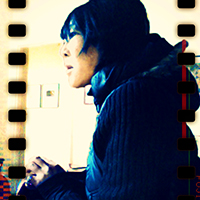 Joan Osato
Producing Director
josato@youthspeaks.org
415.255.9035 ext. 23
Joan Osato
Joan Osato has played a pivotal role in local and national theater for well over a decade and has been an indispensable part of Youth Speaks since 2001. She served as Youth Speaks' Managing Director from 2001-2007 and has been Producing Director of The Living Word Project since its inception with Artistic Director Marc Bamuthi Joseph. She produces Youth Speaks Festivals and Performance Events, as well as LWP works for stage. She has brought her multiplicity of production and design talents to Living Word Project Repertory works such as The Break/s, Word Becomes Flesh, Scourge, Tree City Legends and Mirrors in Every Corner. She is the inaugural recipient of the San Francisco Arts Commission Artist and Communities Partnership Grant for a project she is conducting through Asian American Recovery Services of San Francisco, and in 2007 she was recipient of the Jefferson Award for Public Service for her work on behalf of Arts and Culture in the Bay Area.
In 2008 she began her visual arts practice as a photographer. Since then she has been considered for prestigious awards such as the Prix de la Photographie, and awarded an Exhibition in The Bay Area Currents 2009. Her work has been exhibited at the Meridien Gallery, Ictus Gallery, Intersection for the Arts, and Yerba Buena Center for the Arts in San Francisco. Her notable portraits have been featured in publications including the SF Chronicle, Houston Chronicle, Koream Magazine, and Artslant (as the Juried Exhibition Winner in Photography).
She is visual designer for Tree City Legends, by Dennis Kim, directed by Marc Bamuthi Joseph and is designer on two plays for Campo Santo including The River by Richard Montoya, and Alleluia, by Luis Alfaro, directed by Jonathan Moscone. She is currently designing for Berkeley Rep (Tribes, by Nina Raine), directed by Joanthan Moscone and producing three new plays; Chasing Mehserle, by Chinaka Hodge & Spiritrials by Dahlak Brathwaite; both directed by Marc Bamuthi Joseph, and Nogales by Richard Montoya. As a collaborator and designer of community engagement projects that hold art and social justice at the center, her work endeavors to break open new modes of narrative, employing emerging aesthetics and techniques that push the possibilities of storytelling and theatre. Her current projects include a state-wide community engagement project called Califas (for which she received the 2013 Rockefeller Mapfund) with Calshakes and Intersection for the Arts, Reflections of Healing with muralist Brett Cook, and Life is Living, a project in neglected parks in urban centers around the country.