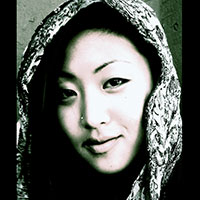 Michelle Lee
Senior Pedagogy Advisor
mlee@youthspeaks.org
Michelle Lee (Mush)
Michelle Lee (Mush) is an arts activist and educator currently living in Oakland, California. Born in San Francisco and raised in the city's Tenderloin District and suburban Hercules, California, Michelle received her BA in Media Studies from UC Berkeley and her MA in Education from San Francisco State University. She is the recipient of the New York Hip Hop Theater Festival Future Aesthetic Artist Grant (2008). She was the National Collegiate Poetry Slam Individual Champion (2004). Her poetry has been featured at the National Asian American Theater Festival (New York City, 2007), Girlfest Hawai'i (Honolulu, 2008), Intersection for the Art's Grounded: New Works Theater Festival (San Francisco, 2007) and on HBO's Def Poetry Jam (New York City, 2006). She has served as a panelist at conferences focused on issues of social justice, youth development and youth-centered movement building, including WOW: Women on Writing (San Francisco, 2005), Young Women's Health Conference (San Jose, 2007), National Conference on Race and Ethnicity in American Higher Education (San Francisco 2007), Intersections (Amherst, 2007) and Korean America Activism for the Ages Symposium (Oakland, 2008).
Michelle has served as educational practioner and member of the leadership body at Youth Speaks since 2003. As the Program Director of Youth Speaks, Michelle has cultivated a national network of district administrators and nonprofit leaders in thirty cities across the country. She has co-coordinated the annual Brave New Teachers Conference, the largest national convening of scholars and organizational leaders in the fields of youth development and literary arts education. Her experience includes cultivating school and community partnerships, developing internal and external communication strategies, overseeing curriculum development, program design and evaluation, and facilitating professional development trainings for classroom teachers and community-based educators.
Mush comes from a family of artists—visual, culinary, literary. Selena Quintanilla was her first pop culture idol. She considers 1992 the single most important year of her childhood. She aspires to be a woman her sons can be proud of.