FREE Writing and Performance Workshops
LIFE. STORIES. COMMUNITY.
Bay Area writers (13-19 years old), put pen to paper with fellow poets at 1 of our 4 FREE after school writing and performance workshops every Thursday after school in San Francisco, Oakland and Berkeley. Come to sharpen your craft, make new friends and get free.
Writing and Performance Workshops will start back up in the fall!
---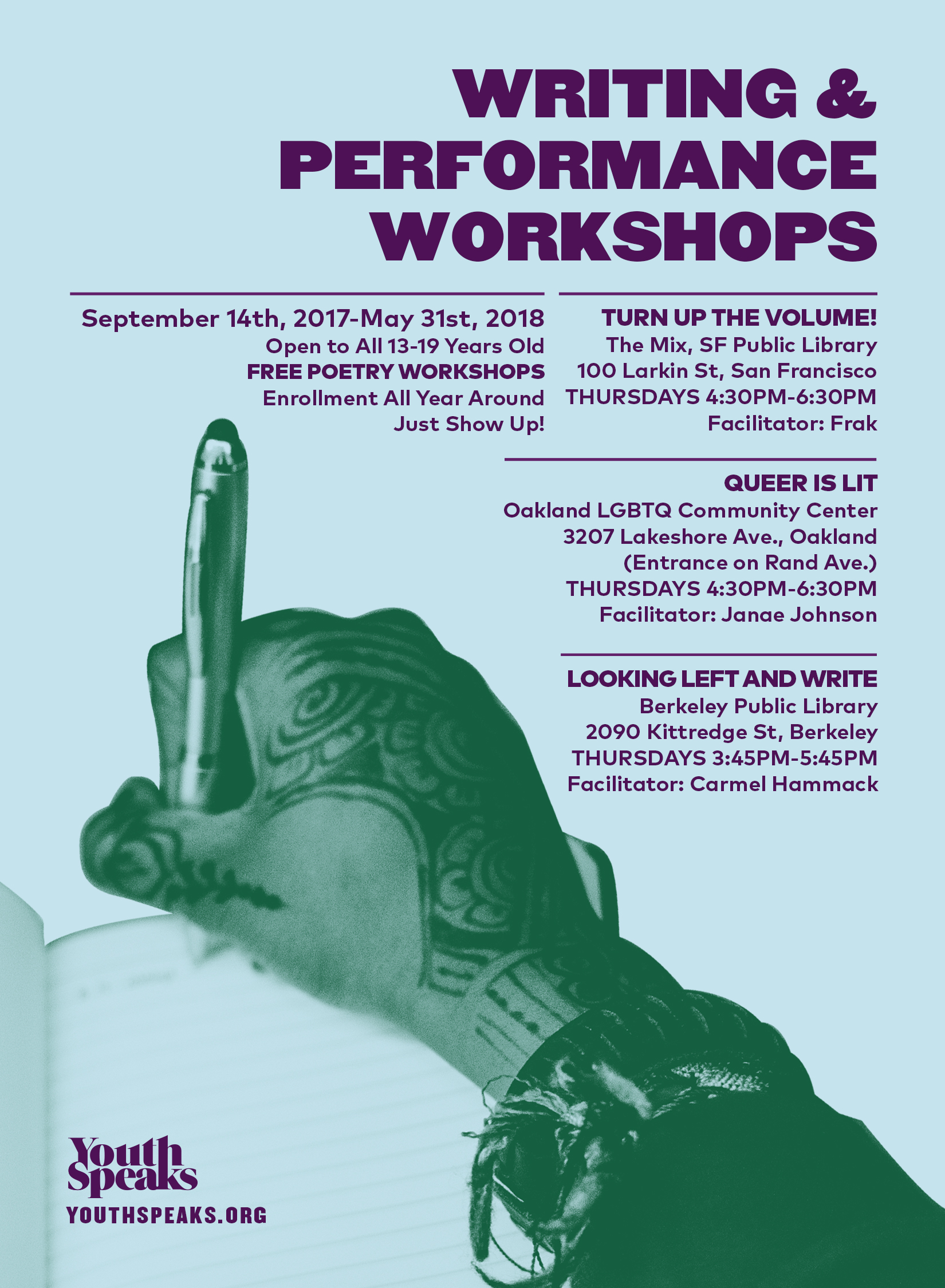 After School Free Writing & Performance Workshops 2018-2019
September 14th, 2017 – May 31st, 2018
Open to ALL 13-19 year olds
FREE POETRY WORKSHOPS
with Open Enrollment all year round – Just Show Up!
Turn up the Volume! – facilitated by Frak
The Mix @ San Francisco Public Library (100 Larkin St, San Francisco)
Thursdays, Sept. 14th 2017 – May 31st 2018; 4:30-6:30pm
Participants explore their own identities and creativity through dynamic, Hip Hop centered writing and performance. Writers, artists, and musicians are encouraged to sign up for unique writing workshops, recording tutorials, and performance opportunities. This is a safe space for young people to freely express themselves while figuring out how to be change makers in their communities.
Looking Left and Write – facilitated by Carmel Hammack
Berkeley Public Library (2090 Kittredge St, Berkeley)
Thursdays, Sept. 14th 2017 – May 31st 2018; 3:45-5:45pm
Map your lived, ancestral, cultural, and contextual experiences; write into existence intentions for your future. This workshop provides tools to reflect on your past through the lens of family history, surroundings, culture, as well as social and political circumstance. This is a brave space for self-observation, growth, and developing skill as a writer/ artist/ performer.
Queer is Lit – facilitated by Terisa Siagatonu
QTY Treehouse
1684 7th Street
Oakland, CA 94607
Thursdays, Sept. 14th 2017 – May 31st 2018 4:30-6:30PM
This LGBTQIA+ centered writing workshop explores personal and historical narratives that (re)frame perceptions of language, sexuality & gender. First time and/or experienced writers are encouraged to attend. This is intended to be a space where your authentic self is not only welcomed- it's celebrated.
Generously funded by the San Francisco Department of Children, Youth and their Families, Grants for the Arts/San Francisco Hotel Tax Fund, the San Francisco Foundation, the Kimball Foundation, the National Association of Latino Arts and Culture, the W. Clement and Jessie V. Stone Foundation, The William and Flora Hewlett Foundation, The Walter and Elise Haas Fund, The Lia Fund, the Clorox Company Foundation, the Stanley S. Langendorf Foundation, the S.D. Bechtel Jr. Foundation, and individuals who believe in the power of the word when it is in the hands of young people.