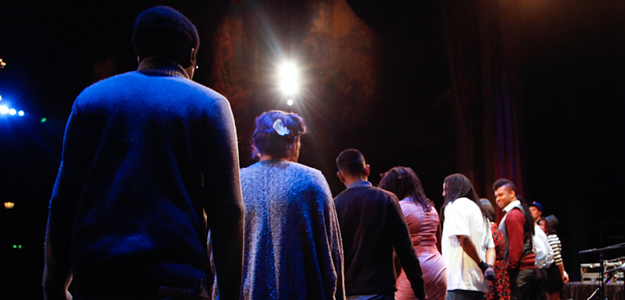 > When was Youth Speaks founded?
Youth Speaks was founded by James Kass, in 1996 in San Francisco. Kass still serves as the Executive Director.
> What is the mission of Youth Speaks?
Youth Speaks creates safe spaces that empower the next generation of leaders, self-defined artists, and visionary activists through written and oral literacies. We challenge youth to find, develop, publicly present, and apply their voices as creators of societal change. Our vision is to shift the perception of youth by combating illiteracy, alienation, and silence, creating a global movement of brave new voices bringing the noise from the margins to the core.
> Is Youth Speaks Inc a national organization?
Yes, we are a national organization, but remain committed to the Bay Area, CA as our home.
> When was the first Youth Speaks Teen Poetry Slam?
The first Youth Speaks Teen Poetry Slam, which was also the first teen poetry slam in the country, took place for over 3 weeks in April of 1997 in San Francisco. This slam featured 43 young poets.
> What other national programs does Youth Speaks Inc have?
Youth Speaks has been working for years to help create other programs that work in our model across the country. In addition to Youth Speak NY (now known as Urban Word), Youth Speaks Seattle, Youth Speaks Hawai'I, Youth Speaks Wisconsin, Youth Speaks Nashville, and Youth Speaks Sacramento, we have helped to build over 40 programs. Beyond our partners and affiliates, we also tour Living Word Project repertory pieces nationally, send poets out across the country to colleges and conferences, and have just launched new projects such as The Bigger Picture Campaign and The Off Page Project. We are excited to announce that we are currently in the process of launching new initiatives in the near future! For more info on all of Youth Speaks programs, please visit our website.
> What is the Living Word Project?
The Living Word Project is the resident theater company of Youth Speaks Inc. Marc Bamuthi Joseph, who still oversees its progress, created the company in 1999. Each year, we host the Living Word Festival to further push a new aesthetic in theater, and to provide a different kind of stage for spoken word artists to evolve into.
> What is Life is Living?
An initiative of the Living Word Project, Live is Living focuses on communities of color and under-utilized public spaces to redefine the relationship between performing arts institutions, local communities and ideas of eco-quity.
> Who are Youth Speaks' major funders?
Youth Speaks is supported by many foundations, including the Ford Foundation, the Doris Duke Charitable Fund, The William & Flora Hewlett Foundation, the James Irvine Foundation, the Stuart Foundation, The Stone Foundation, and the Columbia Foundation among many others. We also receive funding from the NEA, San Francisco's DCYF, Grants for the Arts, and Art Commission, The Redford Center at the Sundance Preserve, The US Green Building Council, and many individual donors.
> What is the breakdown of Youth Speaks funding?
Youth Speaks receives about 60% of our funding through foundations, 12% through earned revenue, 15% from individuals, 3% from corporations, and 10% from public sources.
> How many youth does Youth Speaks serve?
Demographics of youth served (as per recent audit, San Francisco Bay Area) Approximately 200,000 per year nationally: Total: 43,200 (2007-08) Age: 13 – 24 51% Male 49% Female 81% of school-aged youth are eligible for free or reduced school lunch program 34% African-American 22% Latino 23% Asian-American 8% Pacific Islander 7% White, non-Hispanic 1% Native-American 5% Other
> What is the relationship to other organizations across the country?
Youth Speaks helped establish many of the programs across the country, helping to raise initial money, giving models for program design, serving as fiscal sponsors and even paying staff salaries. Now, each organization operates independently, raising their own money and adopting program models to their local communities. Among the Brave New Voices network, we have chapters (which carry the Youth Speaks name), and affiliates. As the largest organization doing the work, Youth Speaks works to support all of these programs to the best of our ability.
> Does Youth Speaks offer professional development for teachers and arts educators?
Yes, check our website at youthspeaks.org for the most up-to-date information about materials, trainings, and resources we offer.
> I'm interested in joining the Youth Speaks Board or one of its committees. How do I go about doing this?
We are always looking for people who bring particular skill sets to our Board of Directors and/or the Committees of the Board, as well as our advisory board. If you are interested, please contact our Executive Director James Kass at 415.255.9035 ext or by email to jkass@youthspeaks.org
> I'm not in the Bay Area – how do I get involved?
If you are interested in participating in local programs, we have links on our website that will take you to your nearest organization.
> I'd like to bring Youth Speaks to my event or school. What do I do?
If you go to our website at www.youthspeaks.org , you will find a Book Youth Speaks button, which will give you all of the options to bring Youth Speaks to your school, your event, your theater, etc.
> I am an artist who is doing a project for school and would love to use Youth Speaks poems or poets. How do I make this possible?
Please contact Fernande Legros at flegros@youthspeaks.org or Amalia Mesa-Gustin at amesagustin@youthspeaks.org
> I would like to collaborate with Youth Speaks. Who do I speak to?
- Inquiries (local community engagement) please contact bdavis@youthspeaks.org - Inquiries Bigger Picture, contact bdavis@youthspeaks.org - Inquiries Off/Page, contact jvadi@youthspeaks.org -Inquires R.A.I.S.E Up, American Graduate programs, nhuey@youthspeaks.org -Inquires Theater, Life is Living, National Touring, josato@youthspeaks.org - Inquiries Brave New Voices Festival in Philadelphia 2014, Atlanta 2015, please contact josato@youthspeaks.org or dsmith@youthspeaks.org and visit the Brave New Voices website at www.bravenewvoices.org
> How do I get involved?
No matter where you are, there are opportunities for you – either through local programs or through a series of online programs Youth Speaks is developing. The best way to know what's coming up is to go to our website and sign up for our newsletter. This way, we'll let you know all about the various opportunities as they arise.
> How do I volunteer for Youth Speaks/donate my services?
We are always looking for volunteers to lend their expertise, time and passion in service of our mission. If you are interested in volunteering, please contact Kat Evasco at kevasco@youthspeaks.org . As a note, we rarely bring volunteers into our workshop program.
> I am interested in employment at Youth Speaks. Are you hiring?
Check the Youth Speaks website every so often for new postings in the About Us/Jobs section of the site. For information about becoming a poet member or a member of our Youth Advisory Board, please contact Susie Lundy at slundy@youthspeaks.org
> I run/would like to run a spoken word club in a different part of the country. Where do I find funding/Where do I get started?
Please feel free to look at the foundations and sources who fund us, and if appropriate, you may want to ask some to support your group. Remember though, preparation is the key to approaching foundations. We highly recommend that you visit the Foundation Center's website for information on writing a grant proposal and a letter of interest. We are happy to support your programs interest in developing a spoken word organization. One way to start is through participation in Brave New Voices, where we do organizational development trainings. At BNV, you will meet other people from around the country doing the work, and will pick up all kinds of pointers. To learn how to start a nonprofit organization, go online to the Nonprofit Center at www.npcenter.org.
> Is there a list where I can find affiliate programs around the nation so that I can contact them to get involved with spoken word?
Please contact dsmith@youthspeaks.org for more information.
> What is a poetry slam?
A poetry slam is a mock Olympic-style poetry competition. Poets perform their poems for about 3 minutes and then are "judged" by a panel of 5 judges based on the quality of the writing, the content of the piece, and the performance. While we all recognize how ridiculous it is to put points on a poem, it is a lot of fun and brings a lot of new writers and new audiences to the shows. Youth Speaks produced the first Youth Poetry Slam in the country.
> Does Youth Speaks do more than the poetry slam?
Yes, the poetry slam is only one small part of what we do. All year long, we offer youth workshops, mentoring, non-competitive performances, job skills, theater development, civic engagement and youth development programs. Check out youthspeaks.org for all that we do.
> I want my students to compete in competitions. How do I make this possible?
Online registration can be found through our website during slam season.
> I would like to donate some office equipment. How do I do this?
Please contact our Managing Director, Paula Smith Arrigoni, at parrigoni@youthspeaks.org
> I'm a young writer in the Bay Area. How do I get involved with Youth Speaks?
Youth Speaks offers teenagers in the Bay Area free programs throughout the week. On Tuesday, we offer writing workshops at the Berkeley Public Library from 4pm-5:30pm. Please contact Isa Nakazawa at inakazawa@youthspeaks.org for more information about Tuesday workshops. On Wednesdays, we offer writing workshops at our Youth Speaks office in San Francisco. For more information about Wednesday workshops, please contact Dennis Kim at dkim@youthspeaks.org . Youth Speaks also hosts two Under 21 Open Mics a month in Oakland and San Francisco. For other events, updates, and performance schedules, check out our website at www.youthspeaks.org, subscribe to Youth Speaks on the main page for monthly updates, or check out our Facebook, Twitter, and Instagram pages.
> How do I give to Youth Speaks?
You can make secure only donations through our website at https://donate.youthspeaks.org/checkout/donation?eid=23822 , or give our Executive Director, James Kass, a call at 415.255.9035 ext. 11. For other ideas of how to support Youth Speaks, go to youthspeaks.org/support
> I love what you do! How can I help spread the word?
Thank you. Bring your friends to our events, have them check out our website, and point them to our social media pages (Facebook, Twitter, and Instagram). For any other general questions, please send an email to info@youthspeaks.org .