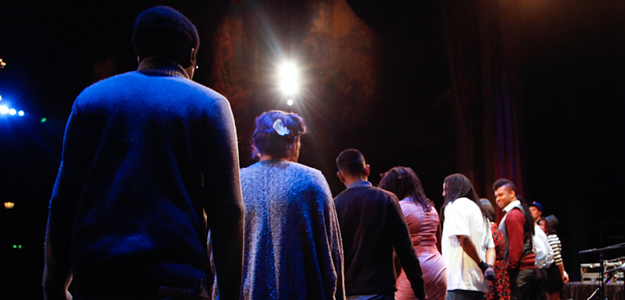 > When was Youth Speaks founded?
Youth Speaks was founded in 1996 in San Francisco by James Kass, who still serves as the Executive Director.
> What is the relationship between Youth Speaks and Brave New Voices?
Brave New Voices is a project of Youth Speaks Inc, and was first created in 1998 as the national youth poetry slam. The Brave New Voices International Youth Poetry Slam Festival (Brave New Voices) now takes place each summer in a different city over 5 days. 500 youth from 50 cities participate.
> When was the first Youth Speaks Teen Poetry Slam?
The first Youth Speaks Teen Poetry Slam, which was also the first teen poetry slam in the country, took place over three weeks in April, 1997 in San Francisco, featuring 43 young poets.

> What is the mission of Youth Speaks?
Youth Speaks creates safe spaces that empower the next generation of leaders, self-defined artists, and visionary activists through written and oral literacies. We challenge youth to find, develop, publicly present, and apply their voices as creators of societal change. Our vision is to shift the perception of youth by combating illiteracy, alienation, and silence, creating a global movement of brave new voices bringing the noise from the margins to the core.
> What is the Living Word Project?
The Living Word Project is the resident theater company of Youth Speaks Inc. It was created in 1999 by Artistic Director Marc Bamuthi Joseph, who still oversees its progress. Each year, the Living Word Project hosts the Living Word Festival to further push a new aesthetic in theater, and to provide a different kind of stage for spoken word artists to evolve into.
> What other national programs does Youth Speaks have?
Youth Speaks has been working for years to help create other programs that work in our model across the country. In addition to Youth Speaks NY (now known as Urban Word), Youth Speaks Seattle, Youth Speaks Hawai'I, Youth Speaks Wisconsin, Youth Speaks Nashville, and Youth Speaks Sacramento, we have helped to build over 40 programs. Beyond our partners and affiliates, we also tour Living Word Project repertory pieces nationally, send poets out across the country to colleges and conferences, and have just launched the LIFE is LIVING campaign.
> What is Brave New Voices Speak Green?
For the last three years, Youth Speaks has partnered with the Redford Center at the Sundance Preserve and the US Green Building Council to create opportunities for youth (especially youth of color) from across the United States to be a part of the conversation on Global Warming and other critical environmental issues effecting their lives.
> What is LIFE is LIVING?
The newest initiative of the Living Word Project, LIFE is LIVING focuses on communities of color and under-utilized public spaces to redefine the relationship between performing arts institutions, local communities and eco-empowerment.
> Is Youth Speaks Inc. a national organization?
Yes, we are a national organization, but remain committed to the Bay Area as our home.
> Who are Youth Speaks' major funders?
Youth Speaks is supported by many foundations, including the Ford Foundation, the Doris Duke Charitable Foundation, The William & Flora Hewlett Foundation, the James Irvine Foundation, the Stuart Foundation, The Stone Foundation, and the Columbia Foundation among many others. We also receive funding from the NEA, San Francisco's DCYF, Grants for the Arts, and Art Commission, The Redford Center at the Sundance Preserve, The US Green Building Council, and many individual donors.
> What is the breakdown of Youth Speaks funding?
Youth Speaks receives about 60% of our funding through foundations, 12% through earned revenue, 15% from individuals, 3% from corporations, and 10% from public sources.
> How many youth does Youth Speaks serve?
Approximately 200,000 per year nationally.
Demographics of youth served (as per recent audit, San Francisco Bay Area).
Total: 43,200 (2007-08)
Age: 13 – 24
51% Male
49% Female
81% of school-aged youth are eligible for free or reduced school lunch program
34% African-American
22% Latino
23% Asian-American
8% Pacific Islander
7% White, non-Hispanic
1% Native-American
5% Other
> What is relationship to the other organizations across the country?
Youth Speaks helped found many of the programs across the country, helping to raise initial money, give models for program design, serving as fiscal sponsors and even paying staff salaries. Now, each organization operates independently, raising their own money and adopting program models to their local communities. Among the Brave New Voices network, we have chapters (which carry the Youth Speaks name), and affiliates. As the largest organization doing the work, Youth Speaks works to support all of these programs to the best of our ability.
> I want to get in touch with one of the poets I saw on TV or at an event. What should I do?
Our policy is to never give out a young person's information without proper consent. Please contact us, and if appropriate, we will make the introduction.

> Does Youth Speaks offer professional development for teachers and arts educators?
Yes, check our website for the most up-to-date information about materials, trainings, and resources we offer.
> I want to start a Youth Speaks chapter. What do I do?
At this point, we do not have any plans to start a Youth Speaks chapter, but are happy to support your program's participation in Brave New Voices, where we do organizational development trainings. At BNV, you will meet other people from around the country doing the work, and will pick up all kinds of pointers. To learn how to start a nonprofit organization, go online to the Nonprofit Center at www.npcenter.org.
> What is a poetry slam?
A poetry slam is a mock Olympic-style poetry competition. Poets perform their poems for about three minutes and then are "judged" by a panel of 5 judges based on the quality of the writing, the content of the piece, and the performance. While we all recognize how ridiculous it is to assign points on a poem, it is a lot of fun and brings a lot of new writers and new audiences to the shows. Youth Speaks produced the first Youth Poetry Slam in the country.
> Does Youth Speaks do more than poetry slams?
Yes, the poetry slam is only one small part of what we do. All year long, we offer youth workshops, mentoring, non-competitive performances, job skills, theater development, civic engagement and youth development programs. Check out youthspeaks.org for all that we do.
> Does Youth Speaks do more than just Brave New Voices?
Yes! Although Brave New Voices is a huge program and accounts for about 25% of our total budget, it is only part of what the organization does. It is fair to say, though, that within the five days of the festival, we highlight most of the work of the organization, from civic engagement, artistic development, youth development and arts education programs to poetry slams, intergenerational programming and organizational development.