Under-21 Open Mics
The Under-21 Open Mics are designed as performance "open-houses" for new young writers and performers to flex their skills on the mic. Additionally, they establish space spaces for poets to share work-in-progress and further cultivate their voice. Held in community locations throughout the East Bay and San Francisco, these events are hosted, produced, and promoted by members of our Youth Advisory Board, Spokes, and are always free! The mic is yours, will you take it?  Learn More.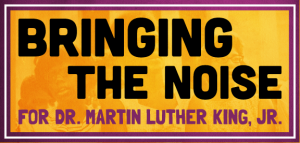 Bringing the Noise for Martin Luther King Jr.
Every year Youth Speaks honors the life and legacy of Dr. Martin Luther King Jr. in a dynamic night of poetry and performance. Our celebration is a testament to the continuation of Dr. King's creative struggle in the name of young poets and leaders from throughout the Bay Area and beyond.  Learn More.

Youth Speaks Teen Poetry Slam
Youth Speaks has the historic distinction of being the first U.S. organization to host a Teen Poetry Slam in 1996. The Youth Speaks Teen Poetry Slam is open to any youth 13-19 years old in the Greater Bay Area. Join hundreds of young artists and leaders as they take the stage and perform for a chance to represent at the Grand Slam Finals. Seize the stage and speak truth to power!  Learn More.

Unified District Poetry Slam
The District Slam is a tournament-style performance opportunity where students represent their schools, perform and spark dialogue with other writers from their school district and the entire Bay Area. The event is a Team Slam, with each participating school having a team of 4-6 poets. Schools from across the East Bay, San Francisco, North Bay, and Peninsula are invited to send a team to the Greater Bay Slam preliminary bout!  Learn More.

Queeriosity
As we celebrate our 18th year, Youth Speaks Inc. is proud to present Queeriosity, an annual spoken word and performing arts showcase dedicated to young people who are reshaping the contours of our conversations about sexuality, identity, and community. We are anything but afraid — we are full of light, and running at the speed of life. We never asked to be tolerated — we call to be seen and experienced as we are: in agitation, transformation, living in motion.  Learn More.

Brave New Voices
The International Youth Poetry Slam Festival in unparalleled in the rest of the world, providing the sounds of what it means to be a cultural leader in the 21st century. Each year, Youth Speaks partners with one of our national affiliates to present this one-of-a-kind festival in rotating cities. BNV gathers 500 teen poetry slam champions from across the U.S., and even parts of Europe and Africa, for a week of performances, seminars, and workshops. These young writers will reach an audience of over 100,000 over the course of the festival, which culminates in an Olympic-style Youth Poetry Slam.  Learn More.