Oakland Youth Poet Laureate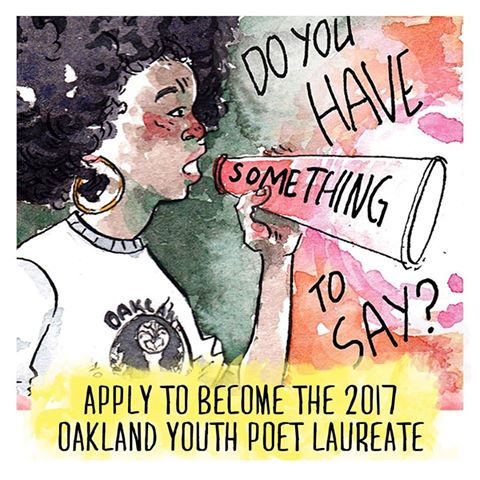 The application deadline has passed.
This year's winner will be announced on stage at the Oakland Book Festival on May 21, 2017.
Thank you to all the poets who applied!
This year's Finalists will be notified mid-March and announced publicly in April.
About The Program
The Oakland Youth Poet Laureate program is an unprecedented citywide effort to celebrate literacy through poetry and connect young writers to far-reaching opportunities. Each year we accept submissions from talented young writers (ages 13-18) to be considered for the city's top literary honor. The Laureate earns an educational scholarship and embarks on a year of opportunities as an ambassador for literacy, arts and youth expression. In addition to the annual poetry competition, the program includes year-round workshops, public performances, publishing, and mentoring for young writers.
Who can enter?
• Only residents of Oakland, CA may apply
• Applicants must be 13-18 years old
• Poems will be judged based on Content, Craft, and Voice. If you are advanced to the Final round, applications will be additionally judged on Leadership and Performance.
Who will be judging the winner?
2017 OYPL Judges Bios and Photos
Oakland's Laureates: A Brief History
2016 – Azariah Cole-Shephard, Lionel Wilson College Preparatory Academy
2015 – Tova Ricardo, Bentley High School
2014 – Sophie Elkin, Oakland School for the Arts
2013 – Obasi Davis, Berkeley High School
2012 – Stephanie Yun, Skyline High School
Meet our 2016 Youth Poet Laureate – Azariah Cole-Shephard
Azariah Cole-Shephard is Oakland's 2016 Youth Poet Laureate. She is a freshman at Charles W. Davidson College of Engineering – SJSU. Poetry became her voice in eighth grade. Azariah's world views are highly illustrated in the poetry that she writes as she addresses both personal and cultural battles that she participates in. Poetry is important to her because it is a unique way to articulate truth and educate those around her in the process.
As a black woman within a society that aims to silence and erase us from important conversations, she believes that her ability to articulate her position on social issues is extremely powerful. Azariah feels that the most significant contribution she's made to her community is her advocacy for youth who face the struggles similar to hers and are seeking knowledge of self as well as cultural context. She spends her free time mentoring and tutoring at her school as well as at her church and she has seen youth flourish into strong individuals as they develop a sense of self-confidence.
The Oakland Youth Poet Laureate is a joint program of Youth Speaks and the Oakland Public Library in collaboration with more than a dozen community partners and funded with the generous support of The Friends of the Oakland Public Library and the Youth Speaks Youth Poet Laureate Fund.